So I really should be posting pics of my recent swap, but I am very excited because I just finished my Monster Purse!!! I LOVE how this turned out, and am very tempted to use this as my everyday purse. I love the colors, it reminds me of the muppet monsters. I got the idea from
this post
on Craftster. So without further delay:
Here is a pic of the lining, I found this super cute pirate skull print at JoAnn's: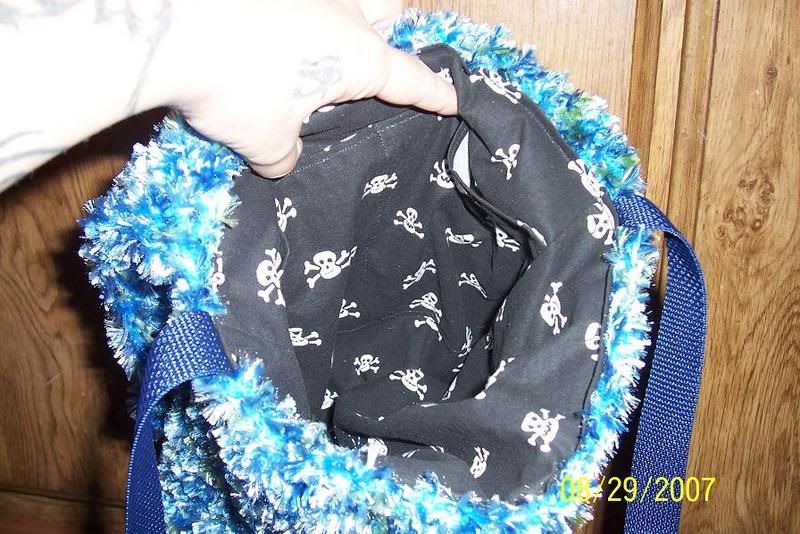 Here is a close up of the colors:
Here is the pattern I made for my version. This is a very open-ended pattern with limit-less possibilities.
L hook
6 - 8 balls of novelty (I used Bernat Boa)
1 skein of acrylic (I used Red Heart super saver)
Felt, fabric, or other embellishments
beginning ch 2 counts as first stitch (you can use ch 3 also)
You are working your ch as height, and building up width with additional rows
Hold all 3 strands together as you work
ch 82
row 1 - dc in third ch from hook, and in each ch across (80)ch 2 and turn
row 2 - dc in each st across (80)
Repeat row 2 until you get the desired width.
I worked mine 32 inches in height, and appox. 12 inches in width.
this is how I folded my bag:
sew sides of bag together and add eyes, teeth etc.
I used my sewing machine to put on the teeth, eyes, handle, and lining.
Feel free to add any extras you can think of. multiple eyes, cyclops, hair bows, etc. Like I said this is a very open pattern.
I really hope this pattern is not too scatter-brained! It is getting quite late, and I am tired! If you have any problems, leave me a message!